Welcome to Call Me Jack!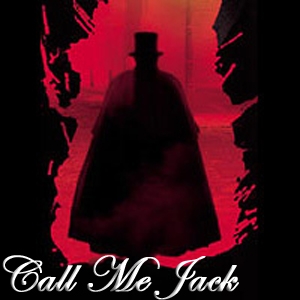 What if?...
In the year 1888... It was a dark time in the darkest part of the city. No one seemed safe at the time from the con-artists, thieves, robbers, prostitutes, the civil unrest , and of course then came the murders. There were quite a few more than was accounted for and it was unfortunate that so many met their fate at his hands. Whether they were good people or not... they surely didn't deserve to die in that manner. Everyone thought they knew who he was, but the sad fact of the matter... if they did, they couldn't prove it. Whitechapel was never the same again.

And all we had was a name... a name he gave himself...



Jack the Ripper
An original audio drama podcast.



Speculative Historical Fiction
---
Call Me Jack: Promo Trailer



Download (02:05, 2.8MB mp3, released 2009.04.19)


A promo for our audio drama: Call Me Jack.




Featuring the voice talents of:

Dave Frizzell as the Witness
Gwendolyn Jensen-Woodard as the Narrator

Music by: Russ Hopkins and Jerry Palmer

Written, Directed, and Produced by: Dave Frizzell

Copyright 2009 Dave Frizzell and Necropolis Studio Productions



---
Call Me Jack: Episode 1



Download (20:55, 23.95MB mp3, released 2009.09.20)


There is always a beginning...




Featuring the voice talents of:

Jeffrey Kafer as Hunter Reese
Stephanie Whitehead as Phoebe Reese
Jonathan Cooke as Detective 1
Edison Pongklub as Detective 2
Phillip Roebuck as the Thug
Melissa D Johnson as Ellen Sickert
River Kanoff as Walter Sickert
Tim Black as Nathaniel Tate
Mark Kalita as Charles Reeves
Matthew Perks as Montague John Druitt
Bruce Busby as the Shopkeeper
Beth Colter as Ann
Gwendolyn Jensen-Woodard as Lady 1
Constance Howard as Lady 2
Dave Frizzell as the Witness
and
Gwendolyn Jensen-Woodard as the Narrator

Voice Actor Extras:
Michael Hudson
Glen Hallstrom
Rhayne Archer
Kimberly West
Alex Gilmour
Kristy Plotkin
Marianne Coleman-Hipkins
and
Tanja Milojevic.

Music by:
Lara St John
Kyiv Chamber Choir
Kevin MacLeod
James Edwards
Russ Hopkins and Jerry Palmer

Ripperologist: Rhayne Archer

Executive Producer: Dave Frizzell

Associate Producer: Stephanie Frizzell

Written and Directed by: Dave Frizzell

Copyright 2009 Dave Frizzell and Necropolis Studio Productions



---
Call Me Jack: Episode 2



Download (16:08, 18.47MB mp3, released 2009.12.04)


There is always a first...




Featuring the voice talents of:

Glen Hallstrom as Edmund Reid
Jonathan Cooke as Det Sgt George Godley
Edison Pongklub as Det Sgt Stephen White
Michael Hudson as Police Constable John Neil
Alex Gilmour as Police Constable William Smith
Simon Meddings as the Thug
River Kanoff as Walter Sickert
Matthew Perks as Montague John Druitt
Rhayne Archer as Annie Millwood
Mark Kalita as Man 1
Bruce Busby as Man 2
Marianne Coleman-Hipkins as the Lady
Dave Frizzell as the Witness
and
Gwendolyn Jensen-Woodard as the Narrator

Voice Actor Extras:
Jeffrey Kafer
Stephanie Whitehead
Melissa D. Johnson
Tim Black
Constance Howard
Beth Colter
Kristy Plotkin
Kimberly West
and
Tanja Milojevic

Music by:
Kevin MacLeod
Monks and Choirs of Kiev Pechersk Lavra
Philharmonia Baroque Orchestra
Ishwish
Lara St John

Ripperologist: Rhayne Archer

Written, Directed, and Produced by: Dave Frizzell

Copyright 2009 Dave Frizzell and Necropolis Studio Productions








---